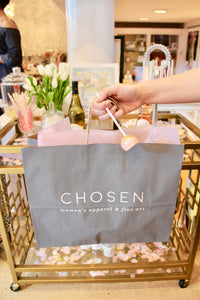 We truly appreciate local bloggers here at Chosen! This July we had the pleasure of hosting a networking party for thirteen Charlotte Bloggers. Being that we are a new store, we are always looking for new opportunities to help our store expand and grow! Throughout this month, we have had multiple Charlotte Bloggers come into our store for a try on session. We realized how important these bloggers are in the fashion community throughout Charlotte.  With lots of planning, our employees put together a fun-filled evening here at Chosen with drinks, desserts and laughter! Each blogger received an exclusive discount for the...
---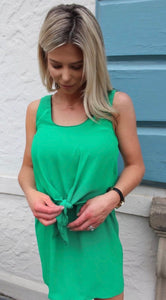 Chosen Women's Apparel & Fine Art   If you're looking for a place to find the PERFECT outfit that will make you feel fabulous, your search is over. Chosen Women's Apparel is that store. Located off Providence Rd. in The Villa, this posh local boutique is a Charlotte gem. The location is dreamy with it's classic Tuscan architecture and then once you walk inside you will notice the beautiful artwork and decor. The owner Caroline is incredibly sweet and down to earth and the girls there are all about making you feel and look your best.  They carry some amazing brands...
---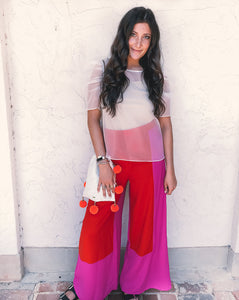 Life as an Intern: Chosen Women's Apparel Outfit Guide Link to SydneyHopeee's Blog: https://syd1206.wixsite.com/sydneybernhardt  June 10, 2018 This summer I am interning with Chosen women's Apparel in Charlotte, NC. Chosen Women's Apparel is a high end boutique that also sells fine art. This store has only been open shortly, but they are growing fast! So far, my internship has been amazing, and I have already learned so much! I am so grateful for this opportunity, and hope it will lead to even more down the line. I enjoy being interactive with tasks such as buying, selling, accounting techniques and finding out ways...
---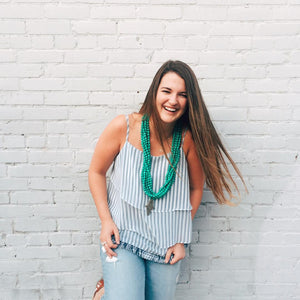 Hi 💕 My name is Caroline! I am the owner of Chosen women's apparel and fine art in Charlotte, NC.. I grew up in the little town of Sumter, SC. I always had a love for fashion & humanitarian missions. Two polar opposites. I had the opportunity to intern with @heartforafricaorg for two months in Swaziland. Over the course of the summer we worked with @toms to distribute over 10,000 pairs to vulnerable children throughout the country. Through this experience I realized that the worlds could and do collide. .I went on to get a bachelors degree in fashion merchandising from...
---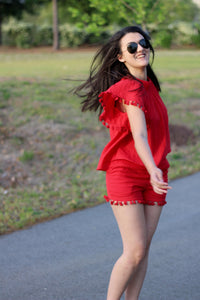 Hey y'all! So this has got to be my favorite outfit I shot in from Chosen. I think it also is my favorite two piece I have ever seen! I love that it is red and has the tassel detailing. We all know I love a good tassel! This outfit could be paired with a red lip and put into a Coke ad. Hey Coke, if you want to sponsor me now is your chance. A girl can dream . What I love most about this two-piece outfit is that the pieces would be just as cute worn separately. This top would...